I've always like ankle boots but since I'm on the short side (5'4), it's hard to find the right ankle boots that won't make my legs look stumpy. I think the trick is to find one that hits right at the ankle or lower for shorter-heeled or flat ones and just a hair above or at the ankle for those with higher heels.
The closest I've come to ankle boots/booties are these: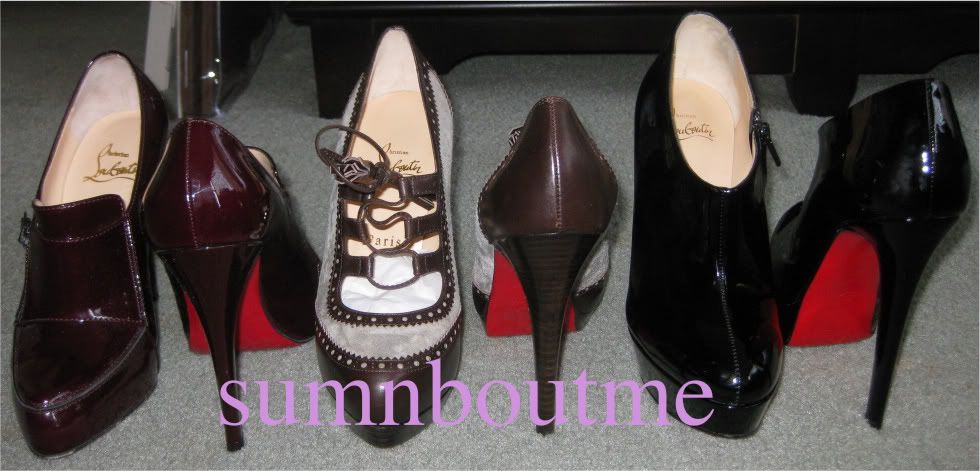 L-R: Burgundy Lapono, Taupe Mamimo, Black Patent Moulage (all by Christian Louboutin)
They're not exactly ankle boots/booties but like I said, they're the closest I have gotten to finding ones that actually work for me. Also, these three pairs are in storage in Los Angeles and I have really been dying to wear a pair out since it's getting cooler here in NYC. I have asked my mom to send me at least one of them but if they don't get here soon, I just might lose it and actually end up getting a new pair (not the best idea since I am without income right now).
The contenders:
Suede Wedge Booties, One by Elizabeth Brady
Wedges are great for NYC - they're not as bad on the ball of the foot since you have more support (or at least it feels like it). Plus, I don't have anything gray BUT I'm not sure about the suede. With the rain and snow, I don't think suede will survive a New York winter.
Leather Biker Boots, Burberry
This on the other had, is perfect for NYC - on the more comfortable side being that they are flat and totally my style (very rock and roll). Problem is, they look sorta like two pairs of flat boots I already own. Still didn't stop me from gawking at the window in the West Village. I must've walked by the window to check these out more than 5 times, on the same day and in the rain. Obsessed much? A tad bit, yeah. I still haven't tried them on for fear that I might actually walk out the store with them on.
Leather Wedge Ankle Boots, Pierre Hardy
This third pair is what you get if the first two pairs ever mated. The perfect compromise - you get the toughness and the edge of the biker boots and I guess the wedge from the first pair. Oh who am I kidding? It's gonna be the second boot. I just know it.
Images from Shopbop and Net-A-Porter.