Yes, my birthday is still months away but since it's a big one, I've been thinking about presents for myself. I think I've mentioned before that I planned on getting a Chanel purse for my birthday.
I thought (and still think) that it's a great birthday present. It's timeless and classic. BUT, I'm not that big on purses and most likely, I'll move on to the next one after a month or so. Not really a great present if I'm only going to enjoy it for a month or so, right?
So, I thought about jewelry from Tiffany....stackable rings to be exact.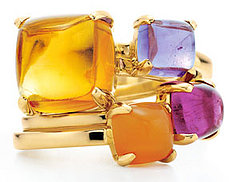 Don't they look yummy? Like yummy candy? Yummy candy for my fingers! As much as I love rings, I'm really not that big on jewelry. I even forgot that I bought a ring from Hawaii last year, although I did buy a new one from Cancun (hehe). Anyway, it really doesn't make sense for me to buy jewelry since I really don't wear it. Plus, I'm back in school so jewelry is a no-no especially with lab classes.
So what did I decide to get myself? Why another trip, of course! This time, I'm going to...
TOKYO! YAY! I'll be in Tokyo for 12 days with my lucky brother, James. Yay! Happy birthday to me!!!