It's my aunt's wedding on Saturday and I finally have my outfit. She didn't want any of the guests to wear black so I will be wearing a gray dress. This is the best pic of the dress I could find:

It's a gray Alice + Olivia pleated dress with sequins. It's not as "spring-y" as she wants but I think it looks festive enough for a wedding. I'm a little worried about the length though since she's having a church wedding. I'll be wearing the dress with my CL Cosmo Python Very Prives!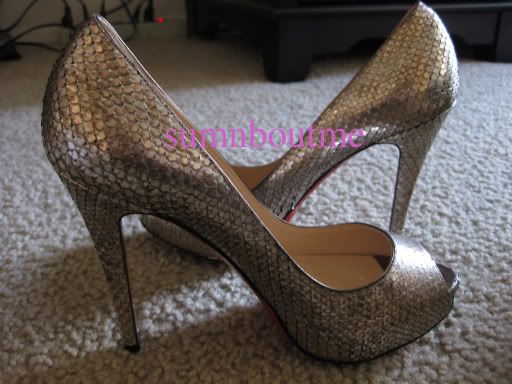 I'll FINALLY get to wear these babies out! I'm so excited. I'll be wearing these shoes all week in my apartment to break them in. Hopefully they'll have stretched out enough by Saturday night. As beautiful as they are, they are a pain to break in. Still can't wait though!!!
Now all I'm missing are accessories. I don't need a necklace since the neckline of the dress is already embellished. I also have a ring that goes perfectly with the dress so all I really need is a pretty bracelet. I've been contemplating on getting a Clic Clac H Bracelet:
I've been eyeing one since back in February and I'm pretty close to just caving in and getting one before Hermes has another price increase. I don't think I can justify the price tag considering it's made of enamel so I'm still on the fence. If only they didn't come in lots of pretty colors to tempt me. *Sigh* Hermes also has a leather bracelet that I like but I'm shopping for the wedding and I don't think leather is quite appropriate. I also think that the clic clac is better when worn with other pieces. It doesn't really quite stand out on its own.
My other choice would be a brass cuff from Elizabeth and James.
I love that it has sort of a harder edge. The color will match the bronze undertones of my shoes as well. Price-wise, it's a little cheaper (about $60) than the Hermes bangle but it's definitely not as wearable.
I'll shop around some more. I'll give you guys an outfit update on Saturday.