I'm not that big on purses but I do, however, realize the necessity for having a functional, professional-looking bag. A lot of my bags are hobos and when I have to go somewhere on a (semi-)professional capacity, I'm always scrambling to find a bag to take with me.
After a lot of mulling over, I decided I need a structured black purse in my 'collection'. Grey is really my first choice but I think black would be a more professional choice. As you have probably gathered, getting me to buy anything black is like pulling teeth.
I've narrowed my choices to the following:
My first choice is the
Mulberry Bayswater
. It's a relatively inexpensive good-sized sturdy bag. It has all the qualities of a great workhorse and it fits what I'm looking for - black, structured, professional-looking.
This next one is a shocker, lol, the
Fendi Maxi Baguette
. It looks more like an oversized evening bag. Most "professional-looking" bags seem to have a bit of a masculine feel. The chain strap on this bag definitely adds a bit of femininity and daintiness and takes away that masculine but also perhaps a bit of the "professionalism" too.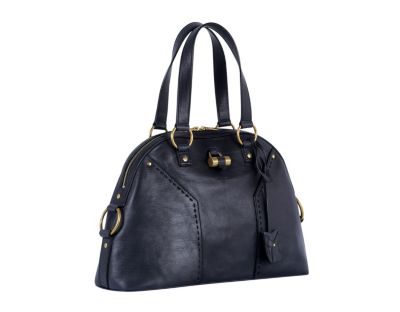 The
YSL Muse
is also a great choice and it has all the qualities of the Bayswater but I really want this bag in Grey so I probably won't get it in Black.