I finally get to share my new shoes! I'm so excited...these are already all over my collection thread on tpf so my dear tpf-ers, please bear with me. And sorry for the crappy pics...these were taken in a rush :p
These are the Lenten ban-breakers: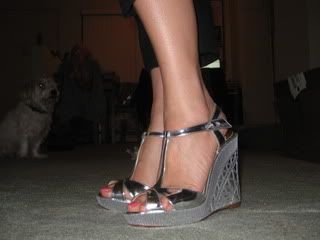 I've wanted these for the longest time but could never justify the $1000+ price tag. I've missed out on these a couple of times on ebay and finally, fate smiled upon me when these showed up on the Outnet CL sale a couple weeks ago. I woke up at 6am PDT for a sale that was supposed to start at 10am PDT...there was a lot of confusion over what time the sale was starting. I'm glad I did though because the sale started about 15 minutes early and I bought these shoes before the site started having problems.
After I broke my Lenten ban, I was supposed to get the Louis sneakers; so off to SCP I went with
JJ
to window shop and try on my future sneakers. Of course, things never go as planned and I ended up with these:
I originally wanted these shoes in the Black/Red colorway but it was love at first sight when I tried on the Nudes. I've always admired nude CLs and now I finally have a pair.
This last pair needs no introduction since I've talked about wanting this pair for a while.
My very own Black/Silver Louis Sneaks!!! I love them so much I'm thinking about getting the White/Gold colorway too. My favorite part of the shoes (apart from the studs) is the sole: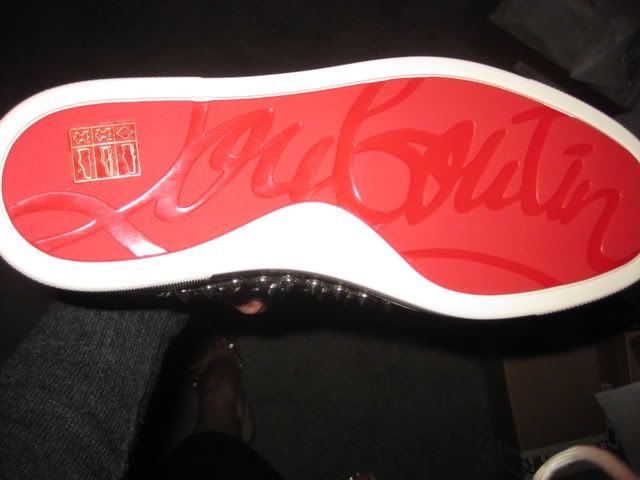 Who needs to stand in line for a CL signing when you already have Msr. L's siggy stamped on your sole!! These are the first pair of CLs that I actually wore out, pretty much as soon as I got them. I usually wait a few days to weeks to months (I still have unworn pairs) before I wear my shoes out. I got these last night and had them on all day today. Yup, that's how much I love them.
And these three pairs, ladies and gents, is Reward No. 1. I'm just as excited as all of you to find out what Reward Nos. 2 and 3 are. Oh yea, did I mention I deserve 3 rewards??? Hehehe...